View Map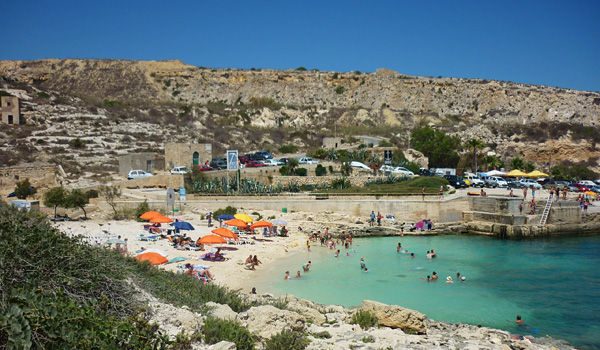 Qala
Though Qala is the farthest village from Gozo's capital, Victoria, it is the closest to the rest of the Maltese archipelago, and the rocky hillsides of Qala enjoy an unobstructed view of the islands of Malta and Comino. Breathtaking scenes can be enjoyed, among other places, from the Qala Belvedere and from the small courtyard in front of the church known as II-Madonna tal-Blat (Saint Mary of the Rocks). This church faces Comino and legend has it that it was built so that the people of that island could follow Holy Mass from across the straits when rough weather precluded a priest from going there. Except for a few sheltered inlets, like the popular Hondoq ir- Rummien. Qala's coastline is a rocky trek to which nature and history both have contributed a great deal. Natural gifts include several caves, the prettiest of which is Ghar Minka, which is accessible only by boat. Historical works are mainly defensive structures designed to deter enemy landings. Foremost among these is St. Anthony's Battery (1732), known locally as it-Trunciera. This is one of the works of the Knights that transformed Malta from a pirate haven into an island fortress.
A few years after the erection of St. Anthony's Battery, the Knights invented the fougasse, an assembly of explosive material pressed into a hole in the ground and kept ready to fire on the intruding ships. The fougasse was introduced to Gozo in 1743, and several were erected along the Qala shore. Reportedly, two survived one facing towards Mgarr Harbour at Blata I-Bajda, the other on Gebla tal-Halfa. Another interesting feature of the Qala coastline are its salt pans, some of which are still active. The process of trapping seawater in hand-dug troughs is a traditional way of producing salt in Malta, where the main ingredients- a rocky coastline and strong sunshine are in abundance. Qala's salt pans are found intermittently between Hondoq ir- Rummien and Gebla tal-Melh. A less traditional plant at Hondoq ir-Rummien accomplishes the opposite – a plant that used to extract clean water and discards salt and other impurities, today this mass of concrete has fallen in disuse. A walk along Qala's interesting coastline offers all this, plus a constant view of Comino, which seems almost close enough to touch. Despite this proximity, Qala's contact with the other islands is practically invisible. Occupying the easternmost corner of Gozo, Qala is clearly off the beaten path. Still, hordes of tourists descend upon this traditional village of 500 families whose 19thcentury windmills give it a distinct appearance. There was a time when the windmill was a common sight in the Maltese towns and villages. Until late in the 19thcentury there was no better way to grind wheat and barley into flour. As steam mills brought one windmill after another to a stop, only two, one in Qala and the other in Xaghra, remained in working condition. A few years ago a storm damaged the Maltese one, at Zurrieq, leaving the Qala Windmill as the most eminent one of the country. The tower of another windmill, known as Ta' Sufa, also survives in Qala. Qala's history goes back nearly 6000years. Several temple period and Punico-Roman pottery has been gathered with more still lying about. By 1989, six Qala sites were identified as temple period settlements, others as Punic structures. At least one temple site existed in Qala, its cornerstone being the famous Gebla /-Wieqfa (standing rock).
You might like some of these...