March 17, 2022
A Guide to Buying Property in Gozo as a Foreigner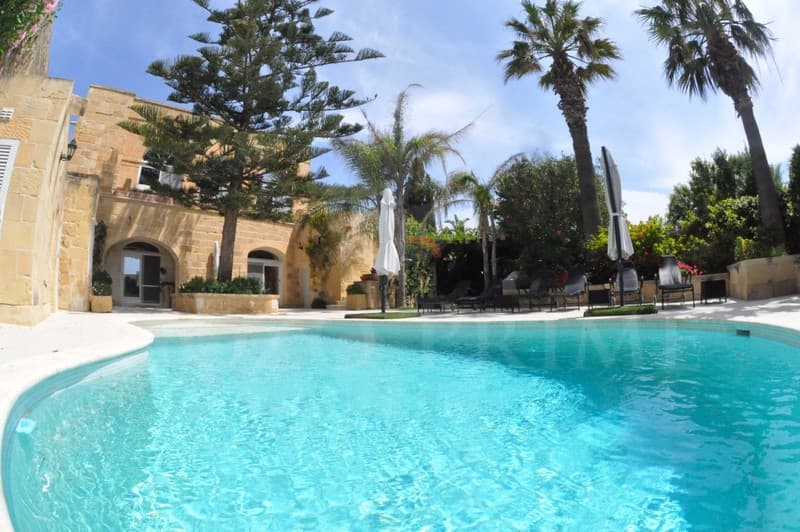 The islands of Malta and Gozo are hot destinations for those looking for the perfect Mediterranean lifestyle. Gozo, in particular, has become more popular in recent months, and it offers peace, tranquillity, and a real community feel for expats and locals alike. If you are thinking of buying property in Gozo as a foreigner, this guide will provide you will all the information you need and for everything else, just contact Gozoprime!
1. Can foreigners buy property in Gozo?
Yes, they can! When buying property in Gozo as a foreigner, EU citizens purchasing a primary residence or who have lived in Malta for over five years can do so with no paperwork required. Non-EU and EU citizens, including Maltese who have not lived in the country for at least five years and are buying a secondary residence, require an Acquisition of Immovable Property (AIP) from the Inland Revenue Department. It takes between six and seven weeks to obtain the permit. Any EU or non-EU citizen can purchase property in a special designated area (SDA) without a permit. SDA areas in Gozo are:
2. Can a foreigner buy more than one immovable property?
Yes, expats can buy more than one property, but only under certain conditions. These include the property being in an SDA, the buyer living in Malta or Gozo for over five years, or buying the property for commercial reasons. EU citizens who have lived in the country continuously for five years or more can buy a second property without additional paperwork or permission. Non-EU-citizens can purchase one property with a permit and then multiple within an SDA.
3. Which are the special designated areas in Gozo?
Kempinski San Lawrenz
Fort Chambray
Vista Point
4. Can an immovable property be purchased in a company name?
Yes, but only if the property is located in a special designated area and as long as 75% of the share capital is held by an EU citizen who has lived in Gozo for five years. The company must also operate in an EU state, and its directors must have been EU residents for five years. In all other circumstances, permits are only granted to expats if the property is to be used for purposes that develop Gozo or Malta's economy.
5. What requirements are there for an AIP permit?
Getting an AIP permit is not difficult when buying property in Gozo as a foreigner, but there are certain requirements that must be met. These include the value of the property being more than €136,972 for apartments/ maisonettes and €236,582 for houses. Additionally the property must be a residence for the applicant. Shell properties can also be purchased if they are lower than the above thresholds but only if an architect certifies that the investment required to make it habitable would reach the required level.
Values are revised every year, based on the state of the property market in both Malta and Gozo.
The applicant must submit two passport-sized photographs, the preliminary agreement of sale, and a photocopy of their passport. They must also pay an administrative fee of €233.
6. Can a foreigner rent his immovable property?
Absolutely, but under certain conditions. The property can only be rented out by expats if it is located in a special designated area and is in possession of a license from the Ministry of Tourism Authority and categorised as Superior and Comfort.
7. Can an unmarried couple buy immovable property between them?
Yes. It is not a requirement for expats in a couple to be legally married in order to purchase a property.
8. Does a Maltese with dual citizenship who has not resided in Gozo or Malta for five years need a permit?
Yes. Under Maltese citizenship law, when in Malta, the holder of a Maltese passport is considered a Maltese citizen even if they also hold other nationalities.
9. What other fees do I need to know about when buying in Gozo?
There are many fees involved when buying a property. These include estate agent commission, architect fees, notary fees, fees related to the bank, transaction fees, and stamp duty. Your agent will be able to help you figure out how much you need to budget for, so there are no nasty surprises.
10. What's the property market like in Gozo?
Gozo's property market is not quite as fast-paced as that in Malta, but it is picking up. Due to many people now able to work and study remotely, more and more are looking to live in picturesque surroundings such as Gozo. This includes lots of expats and those buying property in Gozo as a foreigner. Subsequently, the sector is growing both in terms of turnover and prices. For those looking to move to Gozo, now is definitely prime time.
11. Can I buy property in Malta and get residency
The Maltese government has several citizenship and residency programmes that offer the right to reside after the satisfaction of due diligence processes and investment in Malta or Gozo. This can also include the rental or purchase of property of a certain value. Additionally, for residence processes and as expats, you will need a Maltese or Gozitan address that must be included on your documentation.
12. What Types of Property Can You Purchase in Gozo?
The Gozo property market is as diverse as Malta's, if a little bit smaller. There is a wide range of different properties you can choose from when buying property in Gozo as a foreigner. The most common are apartments that vary in size, finish, location, and specification. There are also duplexes and maisonettes in a variety of settings throughout the island. Detached properties vary in type from regular houses, to farmhouses and luxury villas. In terms of farmhouses for sale, these are particularly sought after as they can be popular for renting, thus providing a secondary stream of income. Villas tend to feature pools and high-end luxurious finishes and sit at the high end of the price scale. Another kind of property available is the traditional Gozitan townhouse. These are typically located in historic areas such as the capital of Victoria.
13. What are property prices like in Gozo?
Properties in Gozo are typically lower priced than in Malta. But how much you will end up paying depends on various factors. For example, you have to consider location, state of the building, potential, finish, whether it is furnished or not, views, amenities, and other factors like pool, jacuzzi, garden, garage etc.
Overall, you can expect to pay an average of €1000 per square meter for an apartment, rising to €2000 for a townhouse. But again, these are only averages and can vary significantly depending on the criteria mentioned above.
But prices are going up as Gozo becomes a more attractive option for many buyers in the time of remote working.
14. Your Step-By-Step Process on How to Purchase a Property in Malta as a Foreigner
Your first step is to find the right estate agent. Pick one that is responsive to your needs, professional and well-established, and only shows you properties that meet your criteria, not those they want to push. It doesn't matter whether you are expats or buying property in Gozo as a foreigner, you still need a good agent.
Then it is time to start the search. Have a clear idea in your head of your budget, the area you want, and whether you want to invest in renovations. Also, make sure you have done your research on the locations you like to make sure they are suitable for you and meet your needs.
You also need to partner with an architect and notary to assist you with the buying process. If you aren't sure of who to pick, ask your estate agent for their advice. The architect will need to check the property before you buy, including the land registry plan, any applicable permits and Schedule 8. They will also check if the property is built legally, in good condition, and valued correctly.
Once you have found the perfect property, it is time to put an offer in to secure your purchase and then sign the promise of sale. When this has been accepted, if you are required to get a permit, now is the time to file the paperwork. When you sign the promise of sale, you will need to pay the deposit, plus 20% of stamp duty.
Sometime between points three and four, if you are getting a mortgage, you need to approach your bank about the property you have chosen. They will want to see documents about the property, but also from you to assess your finances and ability to repay.
Once the mortgage is approved, you will receive a sanction letter which states the bank will approve the loan, pending their architect's report. After the architect has seen the property, the bank will give you Form A, which confirms the report and that you have life and property insurance.
Once all of this is complete, the notary can set a date to finalise the contract. Once it is signed, the rest of the money must be transferred to the seller, and all outstanding amounts, including professional fees and taxes, must be settled.
15. Advantages of purchasing a property in Gozo
There are many benefits for those buying property in Gozo as a foreigner. Here are just a few;
A sound investment; Malta's property market is thriving, meaning a property investment is secure as prices will continue to rise steadily.
Demand for rentals; For buy-to-let, there is a steady demand for rental properties commanding rents starting at €400 a month.
Beautiful locations; Gozo is unsurpassed in its beauty and tranquility. It offers some of the most stunning coasts around and has plenty to see and do all year round.
Safe and secure: Those moving and living in Gozo can enjoy a safe environment to live, work, and relax. With low crime rates and a real community feel, the island is welcoming to all.
Access to amenities; The island of Gozo is excellent for expats as it has all the amenities they would need. These include schools, gyms, shops, public and private healthcare, and more.
Great social scene; Gozo is home to many restaurants, cafes, bars, and other facilities that enable a thriving social scene. There are events all year round, including cultural and entertainment and everything in between.
Culturally rich; For those that love culture, Gozo is the perfect place. A wide range of historical sites, museums, and other cultural locations around the island provide plenty of diversity.
16. Most sought after residential areas in Gozo
All of Gozo is sought after, but some residential areas are more sought after than others. For example, special designated areas are highly desirable and are geared towards expats and those buying property in Gozo as a foreigner. They are located in prime spaces and enjoy high-quality construction, luxurious finishes, security, and added features such as gyms, pools and shopping areas. Other popular locations outside of the SDA's include the town of Marsalforn (where the ferry goes to), picturesque Xlendi, and the stunning capital of Victoria. There are other popular parts of the island, depending on what kind of lifestyle and amenities you are looking for.
17. How can Gozoprime Help?
Gozoprime can help you find the perfect property, wherever you want to be in Gozo. With a wealth of experience in dealing with every kind of property, request, buyer and seller, we are perfectly placed to assist you on your journey. Over the years, we have developed a high level of knowledge of the local market, and we know where all the best properties are to be found. But more than that. We provide top-quality service by listening to our clients and working to meet their needs, not what we think they need. In addition to helping you find the right property, we can conduct sales negotiations on your behalf and remain by your side throughout the entire completion process. Buying a property is perhaps the most significant transaction of your life, don't undertake it without talking to us first.